Tire Storage in Squamish
April 9, 2021
Storage Benefits Outweigh The Costs
June 23, 2021
The Lowest Price Storage in Squamish
Looking to get the best deals on a storage unit? At Stop and Store Squamish, we guarantee that nobody will beat our prices on comparable units.
We Have Units For Every Need
7 x 7 x 7 high (49 sq ft)
7 x 10 x 7 high (70 sq ft)
7 x 13 x 7 high (91 sq ft)
7 x 16 x 7 high (112 sq ft)
7 x 19 x 7 high (119 sq ft)
THE ONLY FENCED AND GATED SELF STORAGE IN SQUAMISH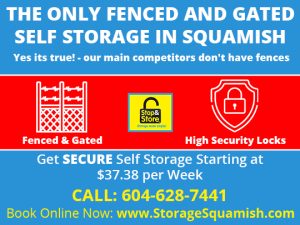 That's right! We are the only fully fenced and gated storage facility in Squamish. Your valuables will be better protected here than anywhere else on the sea to sky!
Stop and Store offers clean, dry and secure storage. We have a range of strong steel units. Get the lowest price storage today!